LEGO have been releasing a special City People Packs once a year since 2016. These People Packs were an instant hit with LEGO fans. They offered a variety of different and new minifigure heads, torsos and legs. There was even some brand new accessories and some returning items LEGO had not produced for a few years.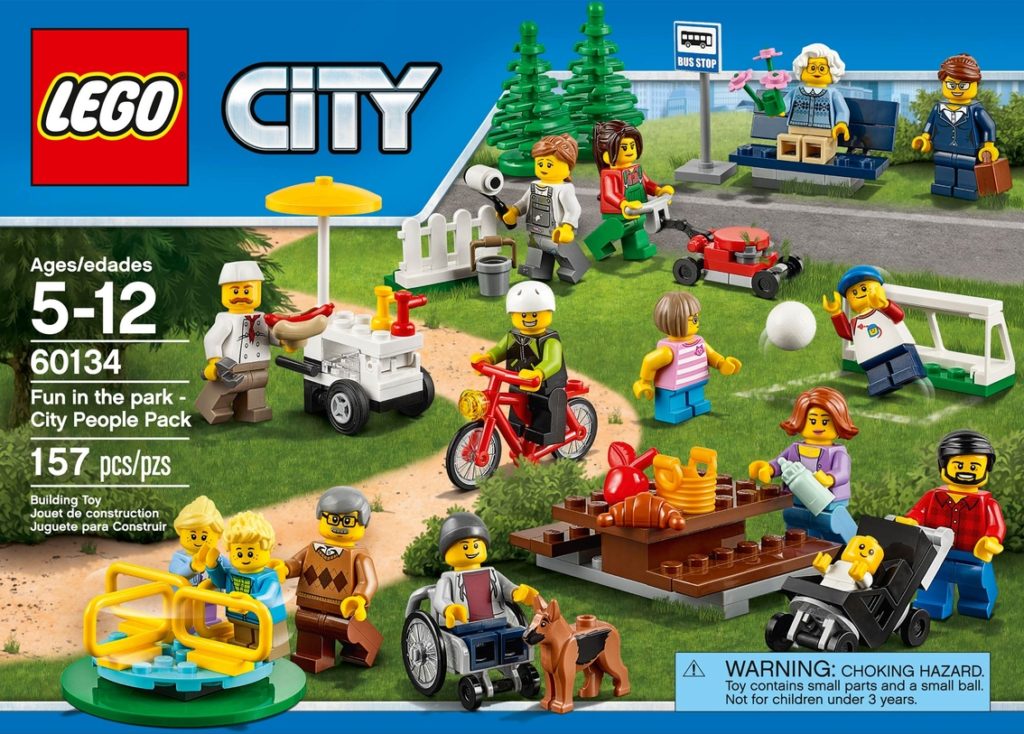 With the first release in 2016, LEGO created a nice simple pack named, Fun in the Park 60134. This lovely set gave us some accessories to bring our own little LEGO cities to life. We even got some new accessories for the first time in LEGO sets, like a wheelchair for minifigures. And our very first LEGO baby was born (if you don't include Maggie from The Simpsons sets).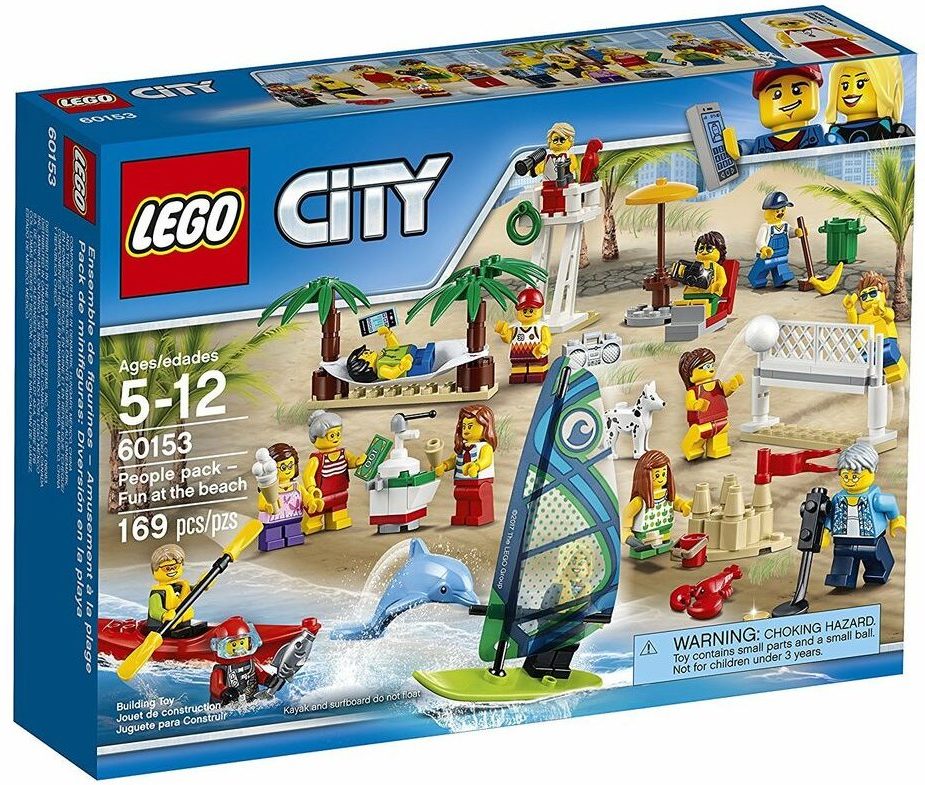 In 2017 LEGO released the second City set named Fun at the Beach 60153. Again this set was well received by fans. I wouldn't say this is my favourite out of the released people packs but it is still really good. It has many new summer torsos for our minifigures when they are off to the beach for some sun, sea and sand.
2018 saw the release of another brilliant City people pack, this set was named Outdoor Adventures 60202 and featured an outdoor camping theme. Some new items such as the Eagle, a new tent that hasn't been used by LEGO for a while and we even got a cute 1×1 round fried egg tile for our little campers!
All the Fun of the Fairground
Come summer 2019 LEGO are releasing two City people packs. LEGO seem to have a running fairground theme throughout City, Friends, Creator and even the Toy Story 4 sets are based around a fairground. There is also a LEGOLAND exclusive set that is based on rides in the parks.
So naturally with all these fairground sets, LEGO went with people – Fun Fair 60234. I have been lucky enough to find this set on sale a little earlier than the official release on 1stJune 2019.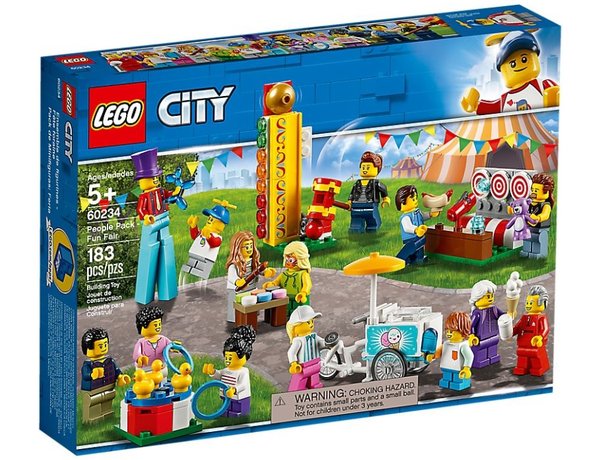 I can definitely say this is my new favourite people pack! It is a small pack with only 183 pieces but the use of those pieces is really good. we have a few new accessories, some recoloured items and more. We have been given some new cool looking torsos and heads. So let's have a look…
Meet the Minifigures
In this set we have 14 Minifigures to play with. There is a nice variety of characters to make stories with. and as always with the people packs you don't have to stick to the instructions. The characters on the box come as the following:
Ice Cream Lady
I love this character, it reminds me of the ice cream van Minifigures from the LEGO movie set. LEGO have used a nice pink, white and blue colour on the torso, teamed up with some pink trousers and a cute white hat for hygiene, since no one likes to find hair in their ice cream!
Casual Comfy Elders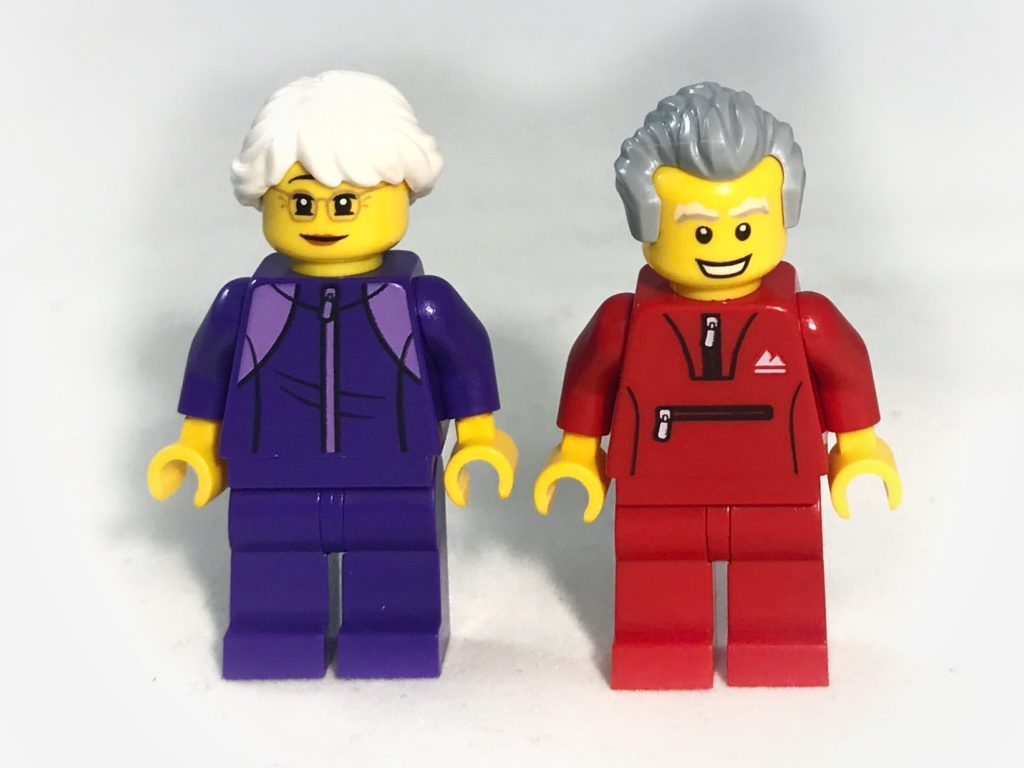 There are some customers at the ice cream cart. There is an older lady and a man, both wearing sports tracksuits. They are likely going for some power walking around the fairground to keep them fit and healthy but it seems the old man has stopped for some ice cream and the old lady has found a nice cup of coffee, so maybe they are just having a nice day out. Either way these two are a really cute pairing and the tracksuits are a nice addition to any minifigure's wardrobe.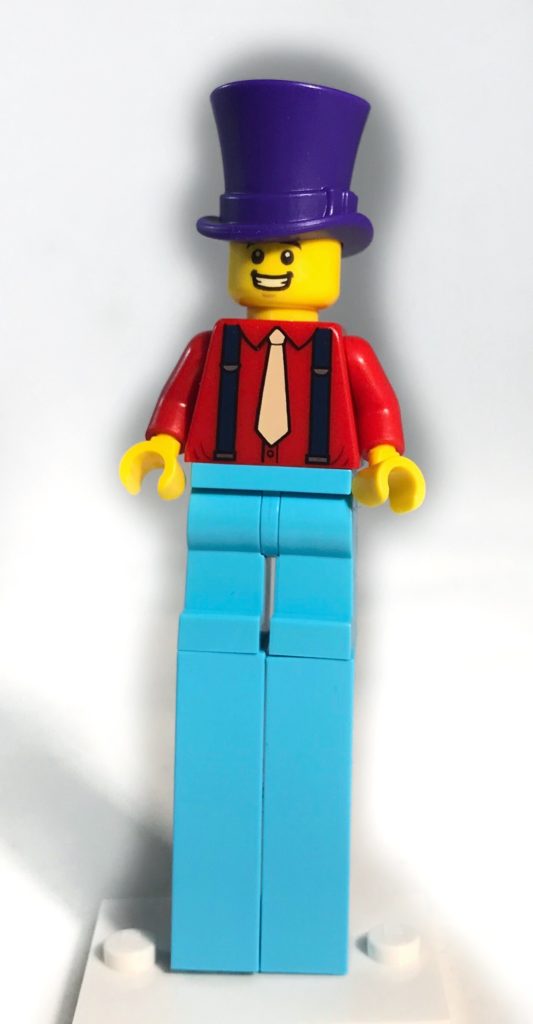 The Stilt Walker
I really like the stilt walker, the last time LEGO released a Stilt Walker was back in 2014 for the Fairground Mixer set. So I was happy they brought this character back with a nice new purple top hat and a jazzy shirt! We have also been given a new trans blue balloon animal, I'm glad LEGO have made use of the series 18 CMF Party Clown balloon animal accessory.
Helicopter Boy
This minifig is very cute, the torso, legs and head have already been used in other sets but what makes this special is the hat. LEGO have introduced a propeller on the top of the boy's cap. It attaches the same way the LEGO Friends accessories attach to the hair pieces. Sadly, it is more for show since it doesn't actually spin, but I can forgive that because it looks cool!
If there is a Disney CMF series 3 in the works I could imagine the cap being used to create a Tweedle-Dee and Tweedle-Dum minifigures from Alice in Wonderland.
Boy with Ice Lolly
So this child seems to be the ice cream lady's second customer. I was slightly confused by his torso when building him as he has one orange arm and one light aqua arm which I thought he had his arm frozen somehow. I like the new torso with the little pocket but I may be changing his aqua arm.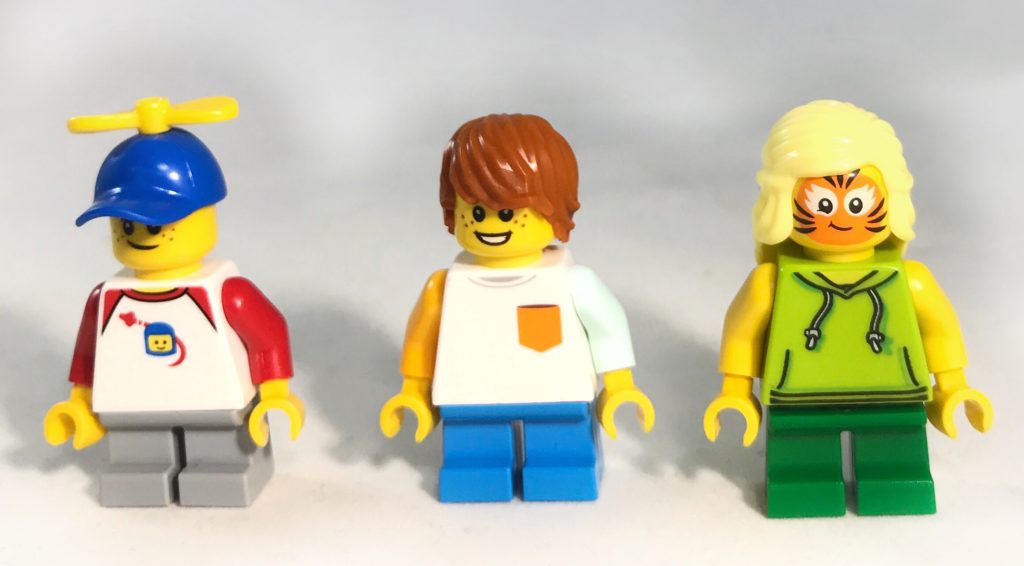 Face Paint Girl
Now this is one of the many reasons I wanted this set. The face print showing face paint of a tiger is super cute! I do wish some of the other minifigures in this set had alternate faces with face painting, but I am happy with this one. There is nothing else new for the torso, legs or hair. The face paint makes this minifigure just that little bit special.
The Face Painter
LEGO have reused the painter minifigure torso and legs they used in the first people pack but there may be a story for this character.
Now I may be completely wrong but LEGO do like to tell stories. In the first people pack – Fun at the Park, there was a new family with the first baby minifigure. LEGO later released LEGO City Pickup & Caravan – 60182 which seemed that the family from the people pack had grown up.
I could be just making things up but the lady that was painting fences in the Fun at the Park set seems to look like a grown up version in this Fun Fair pack. Could it be that the young girl became tired of painting fences for the city and decided to paint faces instead? Or maybe this is just a side hobby and she is still painting fences around LEGO City. Only LEGO and my imagination will tell her story.
The Side Show Gamers
There are three characters playing some of the side show attractions. We have a sporty cool guy with a recoloured dark brown Superman hairpiece. He also has what looks to be a light blue sports team jacket which is probably one of my favourite torsos in the set.
There is a leather jacket lady wearing… you guessed it, a leather jacket. Which is the same torso used for Nya from the LEGO Ninjago City Chase set 70607. She is probably my least favourite because of the lack of new parts. But she does have one of my favourite hairpieces from the Diner Waitress minifigure from CMF series 11.
There is also a rocker guy with mullet hair and quite a cool torso with no sleeves and a guitar print on the reverse. He seems to be giving out a prize and it looks to be a recolour of the teddy bear accessory. It is very cute and good to see the teddy bear has made another appearance in a different colour!
Get the Latest LEGO Sales & Deals
The Duck Family
I purposely left these three characters to last because they are my favourite. The three characters appear to be a family judging from them all having black hair. Also the adult lady and little girl share the same excited smile too. The family look to be having a great time ring toss on to the new LEGO duck piece.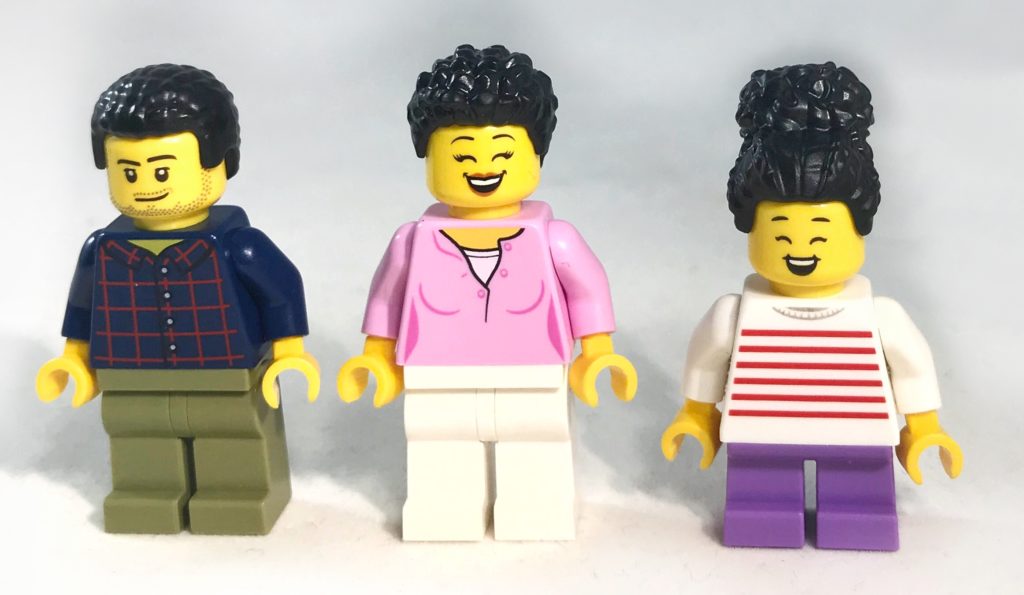 The father doesn't have any new prints or hair, unfortunately. His pieces have been used quite a lot by LEGO. But no reason to be sad, he's still a great minifig having fun with his family!
Mother has a really cute excited face with a more natural smile on the other side and has a short afro style hair which was used in the 2018 Kessel Run Millennium Falcon for Lando Calrissian. When I first saw the set I thought the hair was just short and spiky. She is wearing one of my favourite LEGO torsos because it looks nice and casual. It seems to be used to represent a mother figure in sets. The mother in the Outdoors Adventures pack also wore the same top.
The daughter is really cute, she has a youthful version of her mothers face print which I love because there is a family resemblance. She also has a really cool new hairpiece where the hair looks braided in to a curly bun on the top. As much as I love this new hairpiece it looks a little too heavy on a child minifig.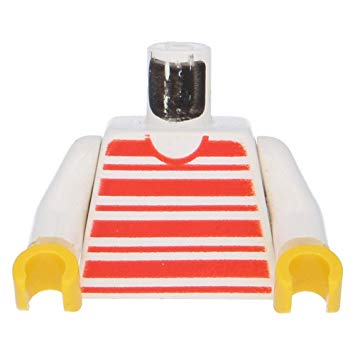 The daughter is wearing a new torso that reminds me a lot of an older People Pack from 1992 called City People. The pack featured a torso with red and white stripes. This new torso is a lovely modernised version and I love that LEGO have brought this torso back!
Building the Fair
This pack has some lovely new builds to make. I mentioned earlier the ice cream cart. This comes with a bike attachment where there is only one wheel on the bicycle so it can become a delivery vehicle of sorts. I'm interested to see what ideas the LEGO community use this part for.
One of the si
deshows is a shooting gallery game where the player must knock down all targets. I like this build but it isn't one of my favourites as it has appeared in quite a few sets in the past, including one of the new Toy Story 4sets.
There is a face painting table made up from 9 bricks. It is very simple and a nice little accessory to go with the two face paint characters.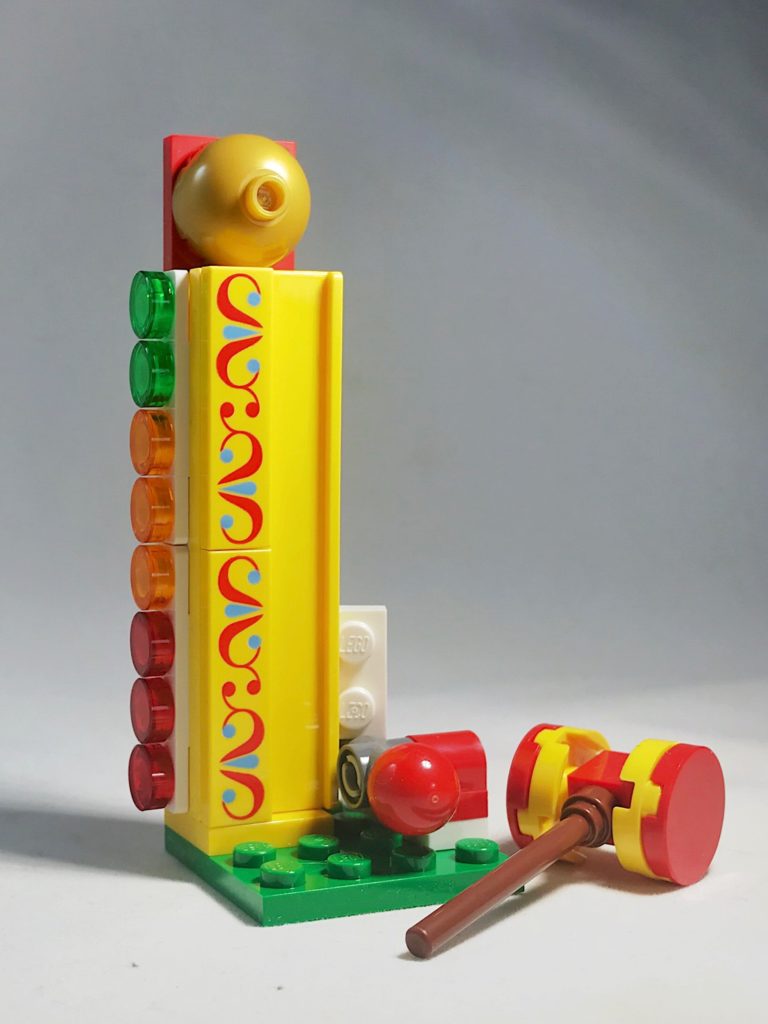 The second last build is a High Striker where the player shows of their strength by hitting the pad and trying to ring the bell at the top. This build is very lovely. It has two new printed tiles which gives it a nice detail along with the 1×1 round tiles on the side to represent lights.
There is even a brick-built mallet to hit the target with! and you can hit the target and the High Striker actually moves up and down. LEGO has added functionality to this build which adds playability. Making this a nice fun build to play with. Sadly the bell does not ring which would have been fun.
My favourite build – and I expect a lot of LEGO fans to be loving this, The Ring Toss. This build comes with three brand new LEGO ducks. The build itself is cute. But the ducks is what it is all about. LEGO could have easily made some brick built mini ducks. I am so glad they chose to mould some real ones instead. They are about the size of Princess Jasmine's bird from the Disney series 2 CMF. And both birds are adorable.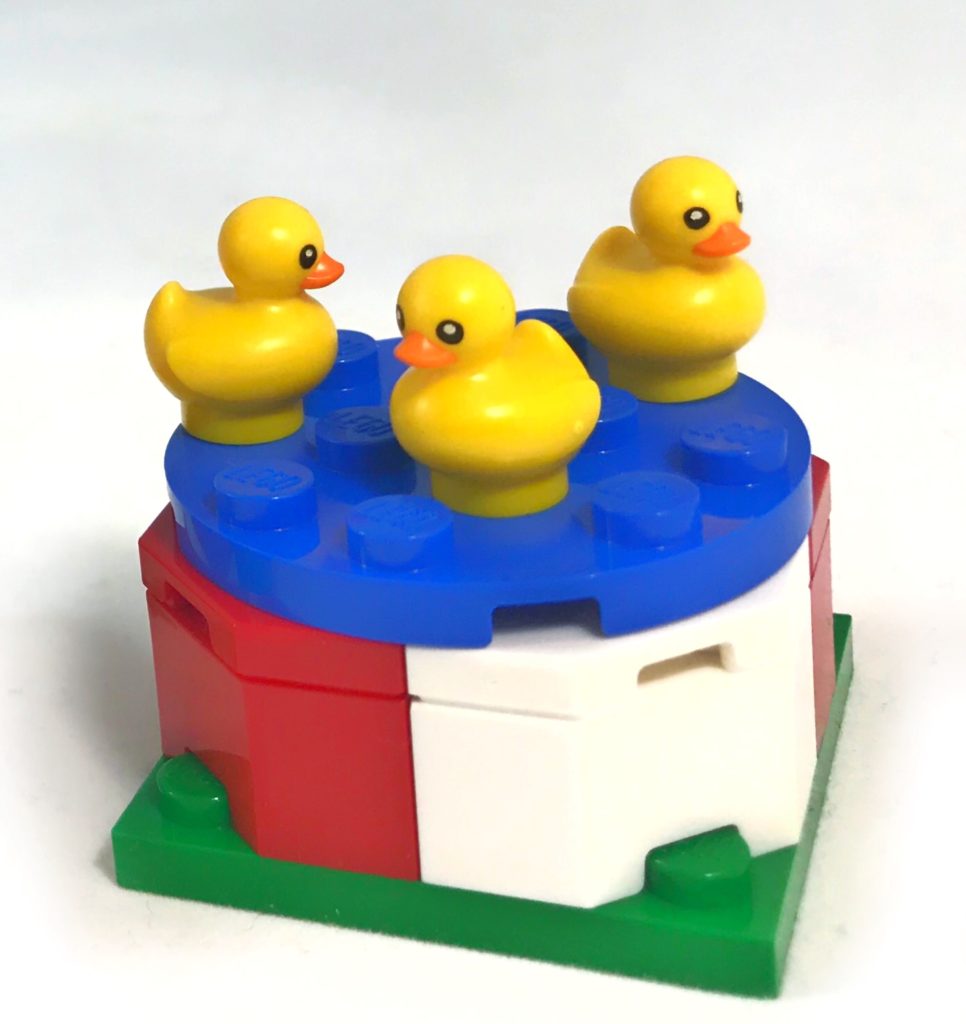 Some new parts which are very cool include the Balloon animal in trans blue, paintbrush with an orange tip, purple teddy bear, hat propeller, the hoop seems to be a brand new part and of course the ducks. These are really great additions and recolours that make the set just that little bit extra awesome!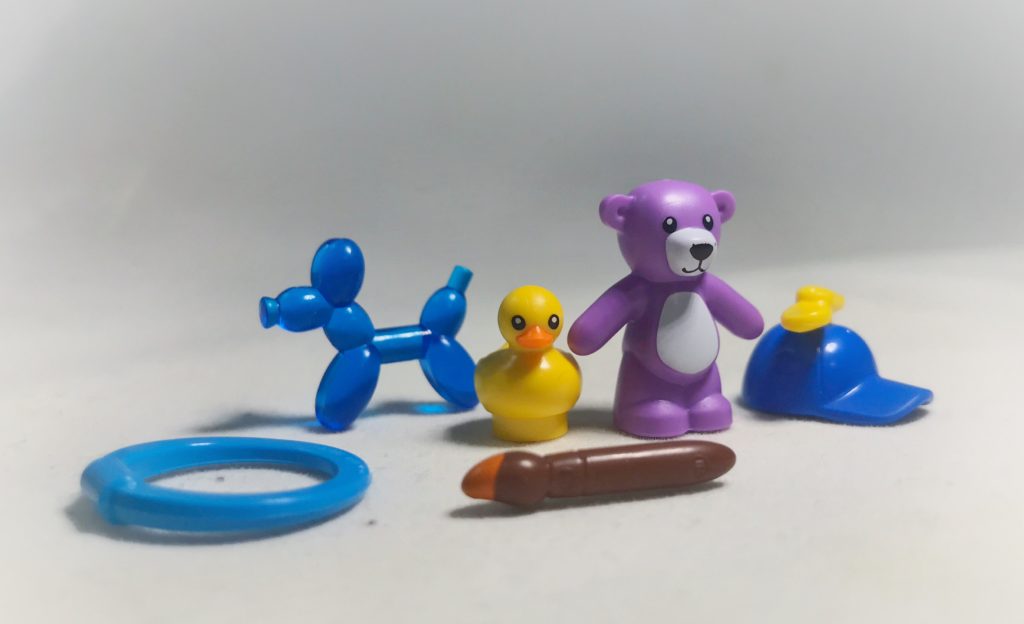 What a wonderful day at the Fair
This set is really cool and a brilliant addition for minifigure collectors. They even add to the ever growing LEGO Fairground sets which really keeps the magic of the fairground alive.
I would say the only downfall is probably the price. You are mostly paying for the minifigures when it comes to People Packs and the brick builds are just a nice bonus. I have loved all of the People Packs and they do bring a lot of joy when building and adding them to your LEGO world.
At the start of this article I mentioned two People Packs coming out in 2019. The next one to be released is the Space Research and Development pack. I am not a huge fan of the LEGO Space theme but I will be sure to pick one of these up when it is released because it looks awesome.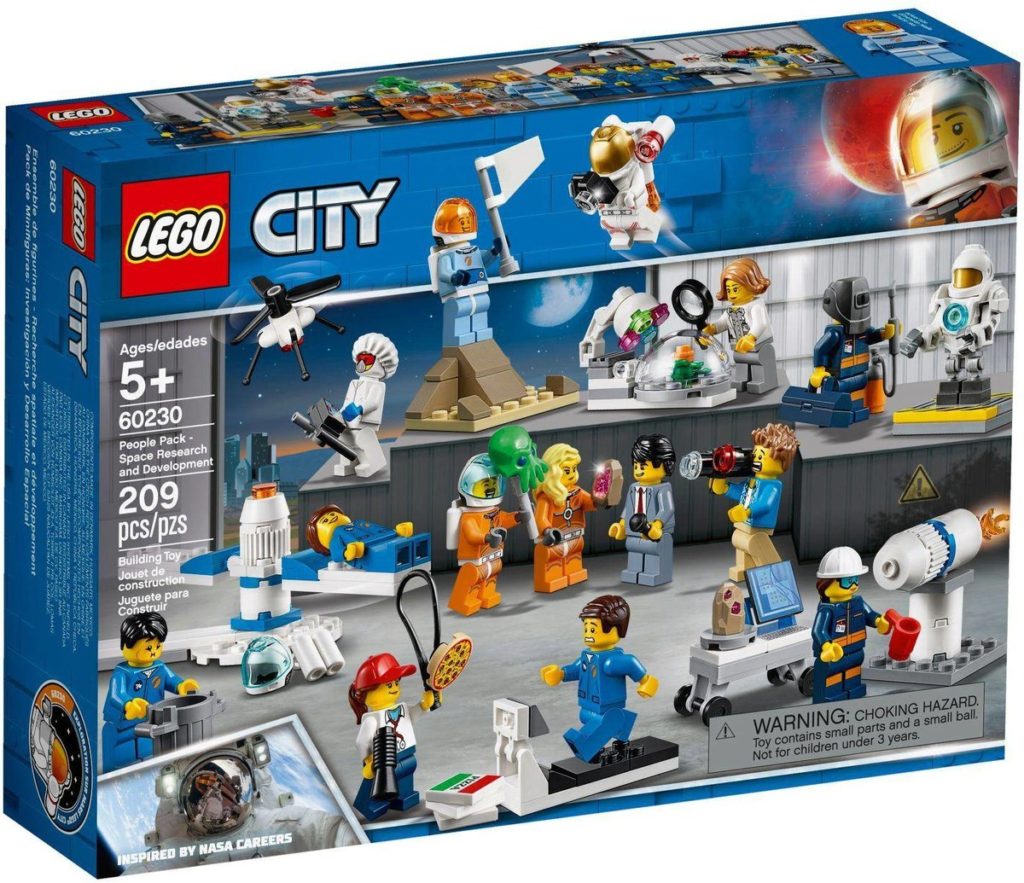 I hope you enjoyed my review of this People Pack and if you have any thoughts you would like to share please leave a comment! If you want to know more about the upcoming LEGO City sets, check out Tom's post here. If you want to know how some minifigures spend their summer, here's a good place to start.
I'm off to eat a load of candy floss and popcorn!
Wish me luck!
Its a Brick Thing
All images are my own unless stated
Get the Latest LEGO Sales & Deals