Keen Marlow, an intrepid journalist, spied behind enemy lines in Nazi Germany before the German army captured and imprisoned him. While a prisoner of war, Marlow allowed Professor Eric Schmitt to give him an injection. Not long after, a new hero possessing super human strength appeared on the Western front: the Destroyer!
Stan Lee
A nineteen year old aspiring author worked routinely for Timely Comics in 1941. He filled inkwells, brought lunch to the artists, and laboriously erased pencil marks. One day in August of that year, Stan Lee wrote a backup comic story, Mystic Comics #6. That issue introduced Destroyer, Lee's first in a pantheon of superheroes. Lee later co-created the Fantastic Four in 1961 with Jack Kirby and a year later debuted Spider-Man, arguably his most famous superhero creation. After that, Lee's path seemed to be set before him. Still, Lee had not become a household name, and wouldn't until 47 years later. In 2008, Iron Man, the first Marvel Cinematic Universe film, arrived on the world stage.
Robert Downey Jr. portrayed the genius billionaire playboy philanthropist Tony Stark, now larger than life and ripped right from the comic book pages. During the middle of the film, Stark attends a benefit, and says hello to someone he assumes is Hugh Hefner. "Hefner" turns around, but Stark has already moved on. Only it isn't Hefner: it is Stan Lee himself! Many cameos and twenty films later, Stan Lee died. This March, Captain Marvel opened with a unique Marvel logo as tribute to Lee.
LEGO Superheroes
In April of 2012, to coincide with the release of the first Avengers film, LEGO released their LEGO Superheroes Marvel theme. Many sets appeared on shelves to allow builders to re-create scenes from the Marvel movies. Many Minifigures, in the form of their movie counterparts, also appeared to save their brick worlds. As far as I am aware LEGO has not yet released an official Stan Lee Minifigure. To my thinking, this is sad. Without Lee, the Marvel we know would not exist. Without Lee, the world would not have superheroes to look up to in the way we do. Through philanthropy and personality, Stan Lee was a hero himself. His work inspires many and will for a long time. He literally changed the course of human history. Fortunately, the LEGO world is not without a version of this hero.
Get the Latest LEGO Sales & Deals
Minifigures.com Customs
A micro company of just four individuals tucked away in the British countryside are now my heroes. They created a fantastic Stan Lee minifigure, and I am happy to review him in advance of the culminating film in the MCU, Avengers: Endgame, which rumor has it will feature Lee's last film cameo (filmed prior to his death).
This custom Minifigure, printed in-house using the latest techniques, is of excellent quality. LEGO Stan Lee arrives, as all figures from Minifigures.com, in his own little case. Standing in a bubble of clear plastic, backed by a unique figure card, Lee is all ready for display. If you choose, he would love to emerge from his packaging and join your play. If you let Lee out, he will look right at home amongst your official LEGO Minifigures. He is printed on front and back and resembles very much the Stan Lee the world grew to love in the last eleven years, complete with his red-tinted shades. Even after close inspection, and macro photography (my personal favorite), Lee's quality and printing holds up remarkably well.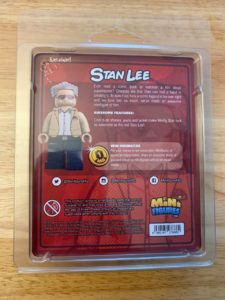 The figure card front displays a digital photo of the figure, and at the top, the minifigures.com logo has been customized with an image of Spider-Man and Hulk as LEGO heads. The reverse of the card includes a short bio about Lee and details the Awesome Features of the figure: "Cool dude shades, jeans and a jacket make Minifig Stan look as awesome as the real Stan Lee!"
My Stan Lee Minifigure will be a prized collectible, but I won't leave him spirited away. I believe the best way to honor Lee and his legacy of fun and heroics will be to include LEGO Stan in my brick adventures as often as possible.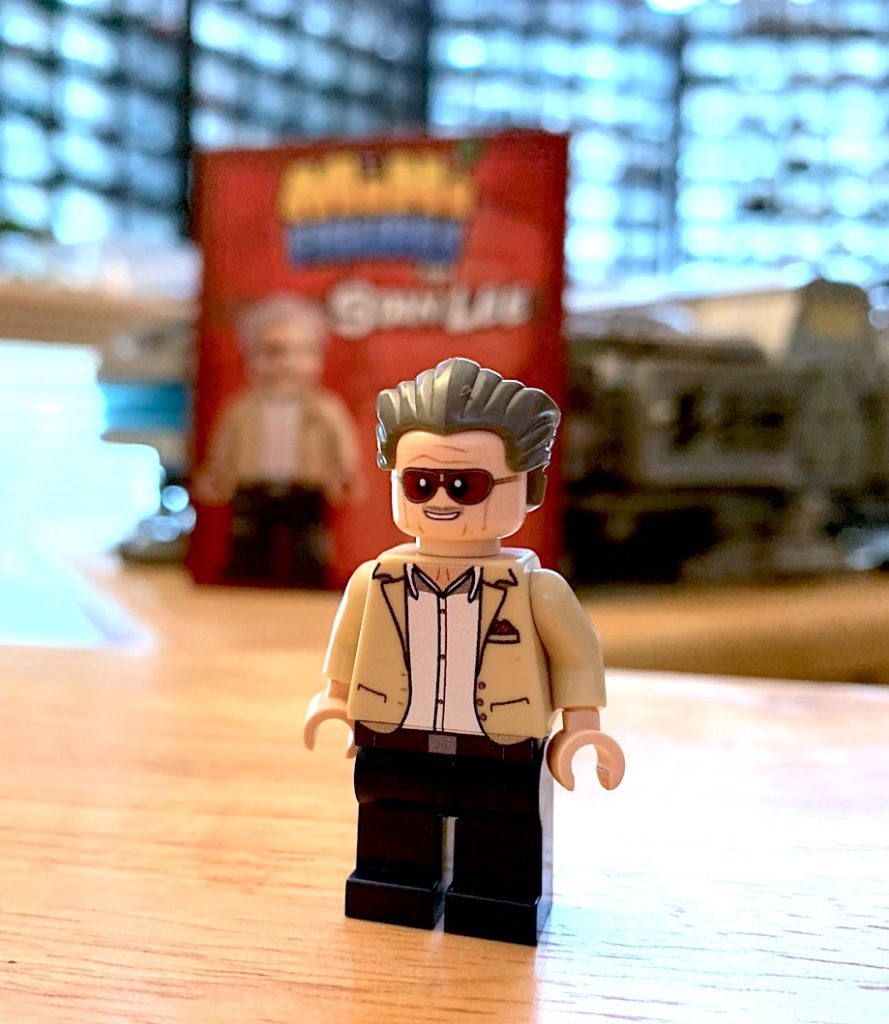 Discover
You should definitely visit minifigures.com and find a few custom figures for yourself! I recently received a Patrick O'Shamrock and John Brick figure along with Stan Lee, and I must say that their quality is just as good as Stan's. The creators of these figures really know what they are doing and ship incredible work. You will *not* be disappointed. Full disclosure: though I write for minifigures.com and firestartoys.com, and did receive Stan Lee for free, my reviews are my own and cannot be influenced through any means. A little later on, look for a giveaway contest from me, PhilRedbeard, with the prize being your very own John Brick figure! The contest will involve building, so break out your bricks!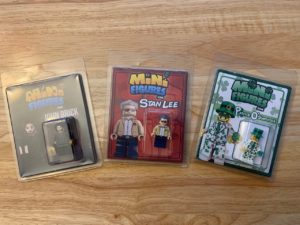 I look forward to what we can build together!
For more Marvel Minifigures check out our articles on the Top 10 LEGO Marvel Minifigures and the Top 5 Marvel Custom Minifigures.
Get the Latest LEGO Sales & Deals