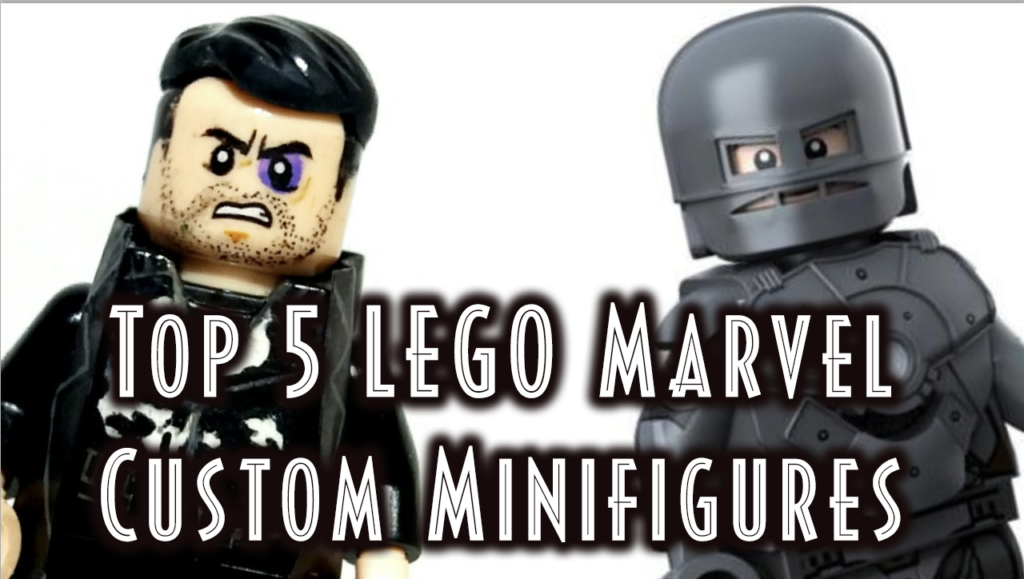 So… ah…. it's safe to say the Avengers Endgame hype has well and truly caught me in its firm, Infinity-Gauntlet wearing grasp and I am embracing it!
Over on the Firestar Toys blog, we've already touched on the fantastic LEGO Marvel sets which have released during the Marvel Cinematic Universe's run. Here on the Minifigures.com Blog, we've also taken an in-depth look at some of the LEGO Marvel Minifigures which have released with those sets (You can read it here if you haven't yet!). With those things in mind, today I wanted to take a different stance – looking at some of the amazing LEGO community's contributions to the Marvel scene. Without any further ado, join me as we look at five of my favourite LEGO custom Marvel minifigures I have found in the S.H.I.E.L.D. archives.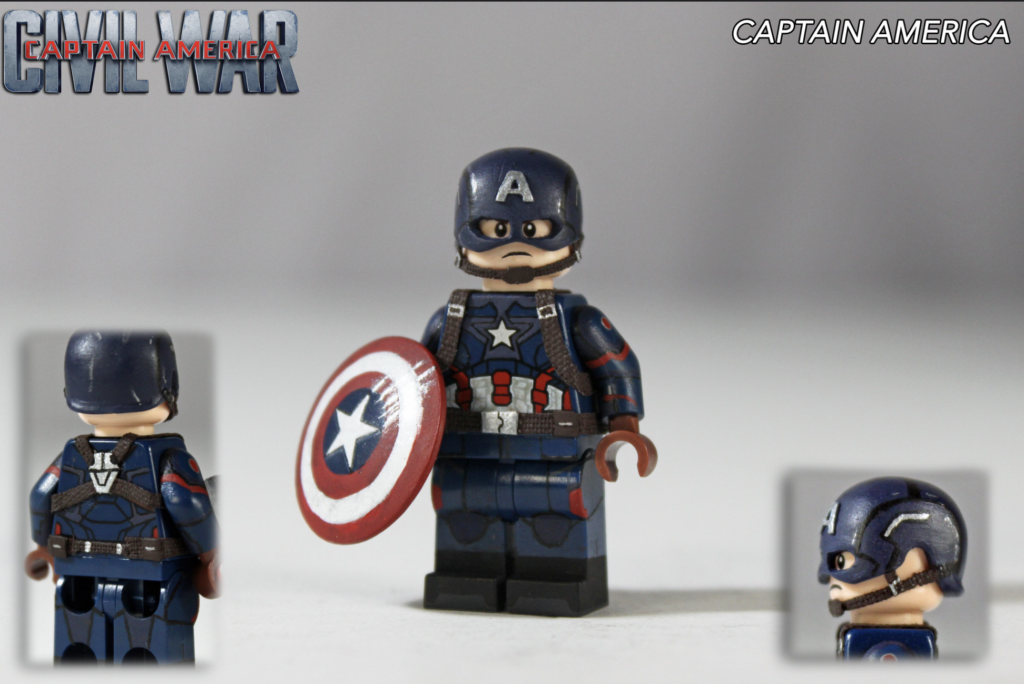 Aaron, also known as legomatic9, is one of my favourite community members when it comes to creating Custom LEGO Minifigures. He has created a whole slew of different LEGO Minifigures across the past few years – covering all different franchises and brands. We've seen everything from intricately detailed Star Wars characters, to fantastic representations of the post-apocalyptic survivors from The Walking Dead. I honestly could happily make a whole separate post just talking about some of his fantastic customs, but that is not what we are here to do today. So, keeping in the Marvel spirit, let's look at Aaron's Captain America from Captain America: Civil War.
So, I should start this by saying LEGO's Captain America from the Civil War sets was a massive disappointment for me. The figure was a straight-up re-release from the Age of Ultron sets we received, which was incredibly disappointing. Aaron's Minifigure, here, picks up on some of the areas which were missing from that Minifigure. Firstly, we have the details on the sides of the LEGO Minifig's arms – adding those unique Avengers patterns which Cap's arms featured. We also then get beautiful printed legs which use a variety of different paints and textures to add continuity to Cap's uniform and create a cool LEGO Minifigure. This is the PERFECT definition of what an ultimate Captain America could look like.
I also then really like the three-dimensional details which Aaron has added in with the Minifigure's strap, as it helps add new definition to the character and really looks fantastic. Whilst this isn't something LEGO themselves would do, it does look good on the Minifigure here. This is all capitalised by the beautiful helmet we have here – something which LEGO have finally created after a long time of fans crying out for it. Aaron did beat them to this, however – and the results really show, with one of the best Captain America Minifigures I have seen.
Get the Latest LEGO Sales & Deals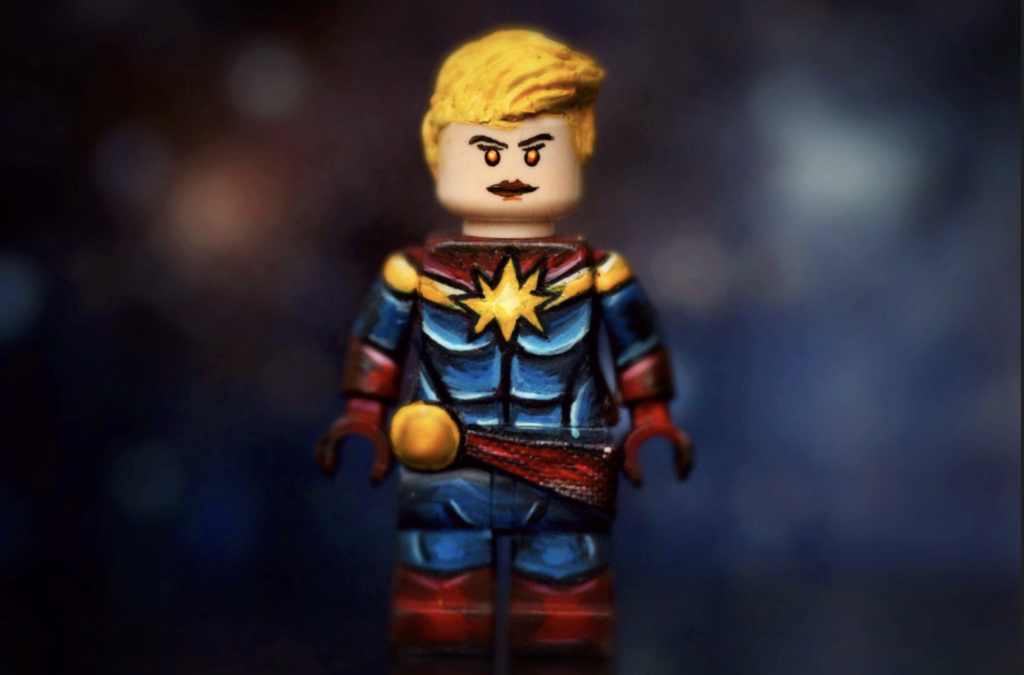 Captain Marvel is one of the newest introductions to the Marvel Cinematic Universe, and is an incredibly popular character currently – with lots of fans turning their attention to the character of Carol Danvers. So, imagine my delight when I stumbled upon this fantastic representation of the character by Leo.
I absolutely love this Minifigure for a variety of reasons. Firstly, I really love the stylised choice for the dual-moulded esque boots. Blue and red are always a fantastic combination, and they look particularly good with the shading choices here to make the figure really pop. I also love the use of the fabric waist-cape style piece here, as it really adds an additional layer to Carol and really makes her pop here. The multi-coloured arm pieces and the chest look great, as the different colours really help to give this character a beautiful, almost cartoon-esque character here which really pays off.
I also adore the sculpted hair piece – as LEGO don't particularly have a hairpiece which works for Carol, particularly when it comes to the Comic Book variant of her. These features make this figure look fantastic –and Leo also gets additional points for the photography on show here, as the shallow depth of field used on the Minifigure here really makes her pop front and centre. A great rendition of a very popular character in the Marvel universe.
Continuing our adventures in the LEGO Marvel world, we're now going to dive into the darker world of Marvel – often found on the Netflix series. Few come darker then Frank Castle – the former soldier who now goes by the name 'The Punisher'. If you've committed a crime, you can run, you can hide, but punishment is coming. The Punisher is by far my favourite Marvel Netflix show to date – so I was excited when I saw a slew of Frank Castle Minifigures hitting the internet after the show aired. LEGO Man's representation of Frank here is perfect for an assortment of reasons I'll touch on now.
Firstly, we have the painted tactical-boots on this Minifigure. These highlight, perfectly, how sometimes a simple print can make the different to a minifigure. Here, we still have plain black legs for the most part – but a very, very subtle piece of detail looks fantastic on this Minifigure. I also then really appreciate the soft-goods trench-coat piece used on Frank here as it reflects not just his TV appearance, but also his incredibly iconic comic book outfit too – showing that Nick Fury isn't the only Marvel character who can rock a trench coat. You can get a similar great piece on the store right now.
Another component I love here is the custom hairpiece – which captures Frank's somewhat shorter hair very well here. I am interested as to what LEGO piece this originally was – as clearly some modification has been done here to make this work for the character. I also love the black eye painted on the minifigure here, as Frank is an incredibly tough and rugged character – so him being a little beaten and worse for wear really helps to sell the character of The Punisher. And lastly, we have the fantastic Tactical Vest which Frank wears. I love how spot-on this is to the on-screen counterpart, even having one slightly faded side like we see on the Netflix adaption.
Overall, LEGO Man has done a fantastic job with this figure and I'd really recommend checking out his content.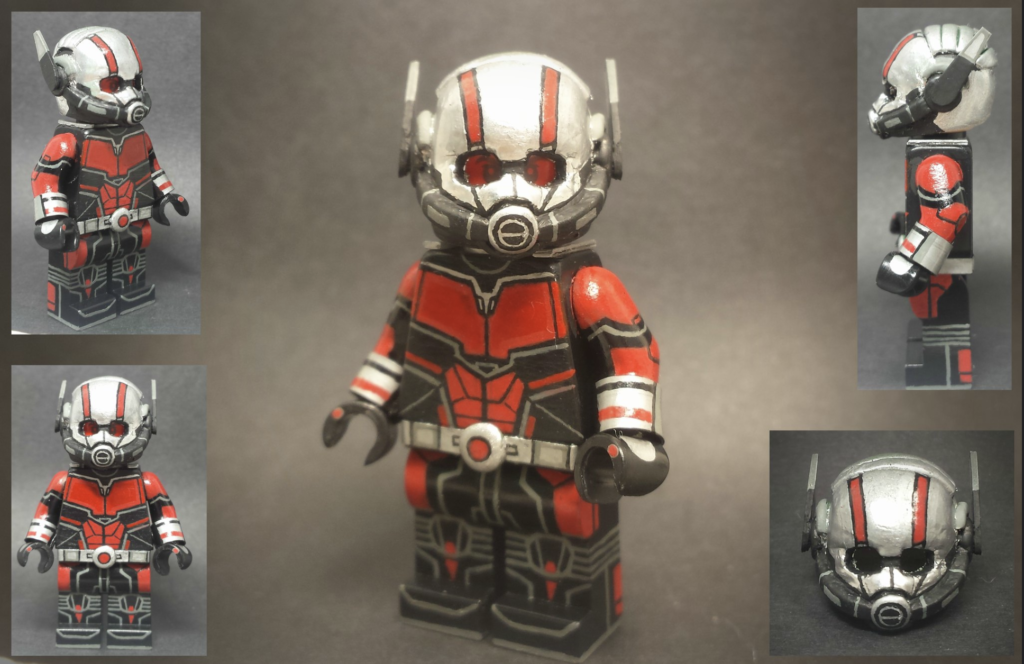 Jumping back in time a little bit through the MCU timeline now, we have this fantastic interpretation of Ant-man which has been presented by Brickophilia. Presenting his newer outfit (as seen in Ant-man and The Wasp), this is an PERFECT Minifigure.
I adore all the details we have here. We have details which every LEGO fan has come to dream of. 360 degrees' leg prints. Arm printing. A brand-new helmet mould which is more reflective of the Ant-man character and what he looks like. These incredibly intricate details already make the figure stunning in its own right – but Brickophilia then takes it further, adding even more depth which really helps to cement this interpretation of Ant-man as one of the best.
Take, for example, the 3D Ant-man belt that we have on this character. The centralised 'buckle' looks fantastic, and again adds a nice level of definition to the character which helps to compliment the outfit. We then also get the tiny details of the red buttons on Ant-man's gloves – helping to further solidify this character as the definitive version. Hand printing is something incredibly un-common, but here we have intricately detailed painted hands which really help to sell the character. Overall, Brickophilia's Minifigure is a fantastic rendition of Ant-man and looks phenomenal.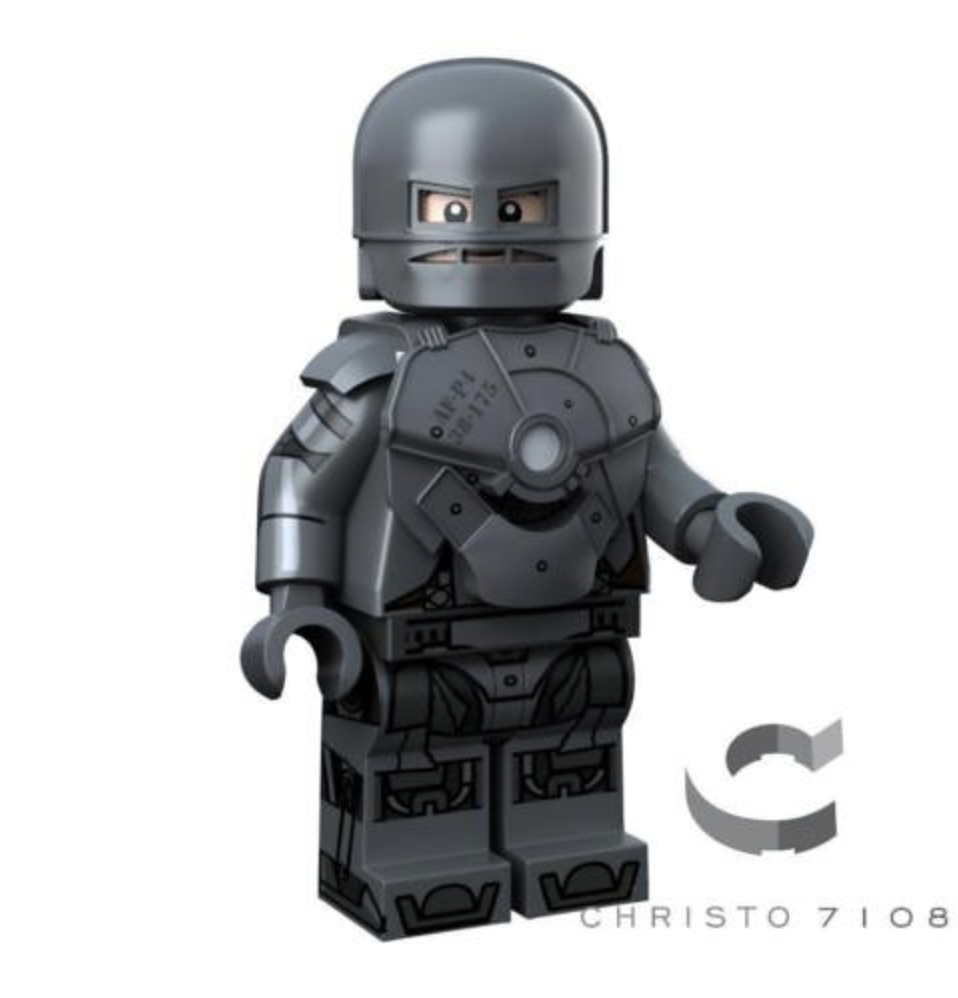 Iron Man Mark I by Christo7108
Last, but certainly not least, we have the great interpretation of Iron Man's Mark 1 armour by Christo7108.
Christo is well known within the LEGO community for sculpting incredible pieces – and his Mark I interpretation of Iron Man really blows this out of the park. Again, I would like to touch on the printing first here – with some fantastic arm printing going here. Tony's very first suit of armour is incredibly rag-tag and cobbled together, so seeing the clear divide and joints between multiple pieces of sheet metal is nice.
This carries through to the leg-printing on the Minifigure too, which again wraps all the way around the character, something which every character would benefit from. I really like the sculpted details here – including the ARC reactor and the shoulder covers too. The addition of subtle prints on the torso here work well too – adding extra details to the character which take it from sub-par to incredible. These details, combined with the custom-made head piece create an incredible version of Iron Man which I would LOVE to own one day.
LEGO's version may be cool, but compare it to Christo's and it is clear who is the winner.
Conclusion
It has been an absolute ton of fun looking at some of the Custom LEGO Minifigures which are on the internet today. There are a ton of really, cool LEGO custom Marvel Minifigures out there, so I really recommend you explore Flickr or Pinterest, as you can find some incredible creations out there.
Do you have a favourite custom which isn't shown here? Send us a link as we'd love to see it!
Get the Latest LEGO Sales & Deals